Watch the latest ThoughtTrace webinar to learn how to use the new Faceted Provision Search with document tags - the new, powerful feature combination helping users gain even more efficiency in their contract analytics platform. Faceted Provision Search gives you a simple search interface to quickly return a list of provisions and provision details faster than ever before, especially now that you can use Provision Search in conjunction with document tags.
Imagine you're in a divestiture planning meeting and someone poses a question about how a certain provision will impact moving the deal forward.
Before domain-specific contract analytics, this question would lead to an hours-long fire drill;
with Document Search, you would have an answer in minutes – just after the meeting concluded;
and now with Provision Search + Tags you have that information at your fingers tips and can answer the question during the meeting while you still have everyone in the room. Game changer!

Watch the 5 minute video: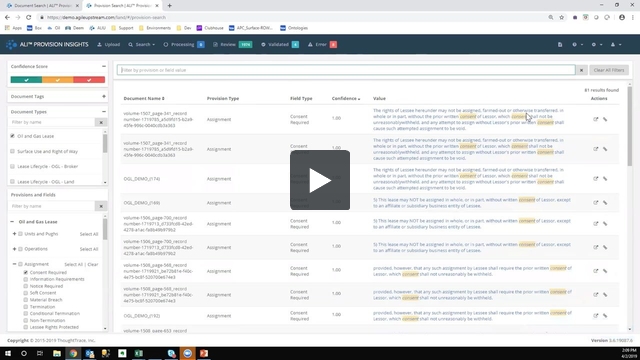 The next webinar will be held on April 11, 2019 on "Applying Contract Analytics to Manage Offset Language in Greater Detail: A Response to the Recent Texas Supreme Court Ruling." Register here!
Related Posts